---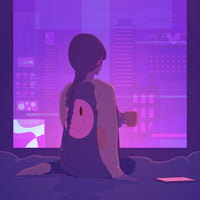 Track Description
"Midnight Snack" is a warm and comforting track that belongs to the Lofi genre of music. This track has a relaxed and easygoing beat that is combined with soothing melodies and soft hip-hop elements. The lo-fi production style adds a vintage and nostalgic feel to the music that makes it perfect for unwinding, relaxing, or just enjoying a late-night snack. The track has a mellow and smooth atmosphere that creates a cozy and intimate feeling, making it ideal for those quiet moments spent alone with one's thoughts. The use of soft and subtle sound effects, such as the gentle rain in the background, adds to the serene and calming atmosphere of the track.
Track Length

Long version:

 

63 minutes 16 seconds
Short version: 4 minutes 46 seconds
What is included in the download?
We know that most meditation projects require long pieces of music. So for your convenience, each track comes in 2 versions – long and short. They are named accordingly, and you are welcome to use both for your projects.
Audio Format
All the audio files are 192kbps MP3 format. Please note that these audio files are compressed into zip files to ensure secure and complete download delivery. After downloading, simply double-click the zip file to open it and reveal the MP3 files inside.
License Type
Royalty-free license. For more information on terms of use, refer to our licensing agreement.
meditationmusiclibrary.com is owned and operated by MUSIC OF WISDOM
Customer satisfaction is our priority.