---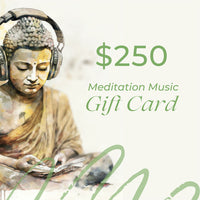 A meditation music gift card 🎁 is a wonderful gift idea for meditation and yoga teachers. With this gift card, they can select from a vast catalog of high-quality, royalty-free meditation music tracks that will enhance their classes and deepen their students' practice. Meditation music has been proven to help people relax, reduce stress, and improve their focus, making it an essential tool for any meditation or yoga teacher.


This gift card allows the recipient to choose the perfect tracks to suit their students' needs, whether they are teaching a yoga class, a meditation session, or creating guided meditation for their social media.


Additionally, a meditation music gift card is an excellent way to show your appreciation for your yoga or meditation teacher's hard work and dedication. It's a thoughtful and practical gift that will make a positive impact on their teaching and their students' practice.


How to Redeem
When you order a gift card, you will receive an email that contains a unique gift card code that the beneficiary can use at checkout to redeem its value.


Gift Card Value
The gift cards can be used towards both single tracks as well as bundles.
➤ With the  $250 Gift Card, the recipient can download up to 12 tracks.
Gift Card Expiration
The gift card has NO expiration date and can be used indefinitely.

.

meditationmusiclibrary.com is owned and operated by MUSIC OF WISDOM
Customer satisfaction is our priority.