---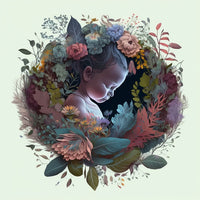 *Download The Cycle Of Life full album

 

HERE.
Track Description
The Cycle Of Life is a meditation music album that sets the tone for a journey through the various stages of life. The album consists of four distinct compositions: Birth, Growth, Enlightenment, and Rest & Rebirth.
"Birth" is a beautiful and serene meditation music specifically designed to accompany expectant mothers throughout their pregnancy journey. This relaxing music offers a calm and peaceful atmosphere that is perfect for mothers and their unborn babies to bond, meditate and relax.
The music of "Birth" has been carefully composed to promote a sense of relaxation and reduce stress, thus offering an optimum environment for mothers to connect with their babies. The soft and melodious tones create a soothing and harmonious atmosphere that will help reduce anxiety, induce sleep and provide a general sense of calm and well-being.
This meditation music is also ideal for use during labor and childbirth. It helps to reduce tension and anxiety during the process, creating a relaxed and peaceful environment for the mother and child. "Birth" music can be used to help manage pain and reduce discomfort during labor and delivery, helping to create a more positive birthing experience.
Track Length

Long version:

 

66 minutes 00 seconds
Short version: 10 minutes 00 seconds
What is included in the download?
We know that most meditation projects require long pieces of music. So for your convenience, each track comes in 2 versions – long and short. They are named accordingly, and you are welcome to use both for your projects.
Audio Format
All the audio files are 192kbps MP3 format. Please note that these audio files are compressed into zip files to ensure secure and complete download delivery. After downloading, simply double-click the zip file to open it and reveal the MP3 files inside.
License Type
Royalty-free license. For more information on terms of use, refer to our licensing agreement.
meditationmusiclibrary.com is owned and operated by MUSIC OF WISDOM
Customer satisfaction is our priority.