---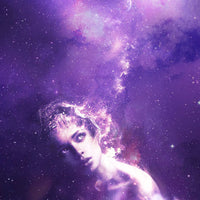 Track Description
"Ethereal Voices" is an angelic meditation music track designed to transport listeners to a realm of tranquility and serenity. This ethereal composition takes you on a soul-stirring journey, guiding you to a state of deep relaxation and inner peace.
The track begins with gentle, ambient sounds that evoke a sense of stillness, creating a soothing atmosphere for meditation. As the music progresses, ethereal voices gracefully emerge, delicately weaving their way through the composition. These celestial voices blend harmoniously with the mesmerizing melodies, creating a sublime symphony that resonates with the depths of your being.
The carefully crafted arrangement of "Ethereal Voices" features a blend of ambient textures, soft synthesizers, gentle choir, and angelic singing voices, all intricately layered to create a rich and immersive sonic experience. The music flows gracefully, ebbing and flowing like a gentle breeze, inviting you to let go of tension and immerse yourself in the present moment.
Track Length

Long version:

 

61 minutes 31 seconds
Short version: 7 minutes 51 seconds
What is included in the download?
We know that most meditation projects require long pieces of music. So for your convenience, each track comes in 2 versions – long and short. They are named accordingly, and you are welcome to use both for your projects.
Audio Format
All the audio files are 320kbps MP3 format. Please note that these audio files are compressed into zip files to ensure secure and complete download delivery. After downloading, simply double-click the zip file to open it and reveal the MP3 files inside.
License Type
Royalty-free license. For more information on terms of use, refer to our licensing agreement.
meditationmusiclibrary.com is owned and operated by MUSIC OF WISDOM
Customer satisfaction is our priority.